As another year nearly comes to completion, Thanksgiving is often a time for people to catch their breath and rejuvenate their Spirit. In other words, a time to do some wise counseling for yourself.
After counseling and mentoring over 1000 people over the last 15 years, I have pulled together a list of five of the most Powerful Ways you can cleanse and/or rejuvenate your Spirit. By the time we get to Thanksgiving many of us often feel like we are almost finished running a race and our energy can run low…
Thus, it becomes critically important to wisely invest our time over Thanksgiving in activities that energize and help replenish our lower energy:
1. Call someone you have not spoken to in a while and thank them for the ways in which they have influenced you.
2. Make a list of people for whom you harbor a grudge against or anger toward, and decide to forgive at least one or two people. Internally harbored anger tends to fester and drain us of energy we could otherwise utilize for productive and fun activities. Identify what expectation was not met that led to your grudge or anger, and reflect on whether your expectation was reasonable or not. Decide how you might become less judgmental and make a 2020 goal from that. One of the most common reasons people seek out counselors is due to anger that becomes unmanageable.
3. Write a letter to someone you truly love and tell them all about what you love about them. The Lost Art of the Letter!!! Letters like this can help us replenish our Spirit and remind us of how lucky we are to have certain people in our lives. This is a great way to counteract all of the ridiculous materialism in our culture that points us away from what the holidays are truly about: celebrating Relationships!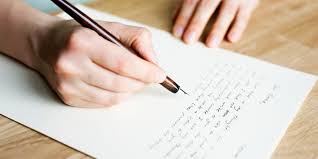 4. Identify a child, or a friend, you have neglected. Put your phone and "adult" activities away and spend one-on-one time with this person. Make sure during this time you make them feel like they are the most important person in your life. If the relationship has suffered due to neglect, then address that with your child or friend. Be honest about how you have contributed to that deterioration. You may just find that by making yourself vulnerable you vastly increase the strength of that bond. See a GREAT video about the Power of Vulnerability.
5. Reflect on the year so far and make a list of three things you will do from now until the end of the year that will help you finish the year in a much more positive manner. Often, around this time of year we realize we have not lived up to some goals we had made at the beginning of the year. But we have over a month to make necessary changes so we have momentum going into the New Year!
If you feel like you have continually fallen short of a goal, and feel overwhelmed by the task of developing a plan, consider consulting a highly competent counselor in order to finally develop a plan that will have reliable and permanent traction. Not sure how to pick the best counselor? Refer to our list of questions to find the best Counselor.
If you do one or more of these things you will likely find that some of the most powerful and lasting counseling you can experience is driven by your own willingness to look inside of yourself. There is nothing like hard one personal insights that you have worked to discover!
Other Holiday or Reflection related blogs:
The best gift to give your child
Let yourself die to Truly Live
Ideas to Build the Bond with your Child