Children & Family Consulting
Brochures
General Youth Brochure | General Forensic Brochure | Pediatric Brochure
As a child/adolescent/student specialist, I am commonly called upon to serve as a consultant to parents, schools, attorneys, and pediatricians. Due to my regular experience with a full spectrum of assessment issues (e.g., assessing higher functioning students who may be/are gifted to assessing highly challenged students with more severe problems), it is not strange for another professional to have done an initial assessment, and then I am asked to give a second opinion due to my in depth training and experience.
I have worked with a wide variety of problems/personalities/family backgrounds while serving in roles including school psychologist, crisis child psychologist, gifted child assessor, outpatient therapist and pediatric psychologist. I have regularly assessed, treated, and consulted on severe youth problems (e.g., suicide, bipolar, homicide, psychoticism, conduct disorder, and moral character problems) as well as less severe challenges (e.g., ADHD, Autism, Asperger's, bullying, bed-wetting, school avoidance, and learning disability).
Youth coming to see me do not need to have a "clinical" problem, as their issue may be they or their parents want assistance with knowing how to adjust to a life stressor, such as a new school or the loss of a loved one. Parents who are struggling to setup an effective behavioral management approach also commonly come to my office for briefer consults. I also serve the needs of gifted or child athletes who are seeking to accelerate their strengths and fill in their skill set gaps by through precison-guided assessment.
A goal of my work is to strengthen family bonds and resolve conflicts. I find that younger people often develop into more mature adults if they receive the right kind of support from a person who helps them see how working through problems builds character and helps them discover their potential. As I am doing this work, I always try to draw from the latest research and I actively participate in my own research program as well.
I am a "go to" person in this community when there is a very perplexing situation in need of someone who has a wide variety of tools that can break down the ambiguity into understandable and treatable parts. I conduct brief and in-depth evaluations that pinpoint key factors/dynamics that when addressed lead to sustainable improvement. You may go to the How and What I Assess or A Case Example of How I work sections to learn more about my assessment style.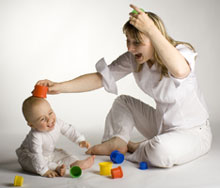 The fact that I am also a parent influences how I sensitively account for each younger person's unique temperament, needs, and goals. My two children are very different, and I have learned that I must tailor everything I do to their uniqueness. I understand that when parents like myself need professional help for their child they want a special kind of professional who will make their child feel comfortable, listened to, and appreciated. They want someone who will help their child internalize new skills they can use to overcome not just the current problem, but future problems as well. This is always my goal, as I want my work with your family to provide sustainable benefits well into the future.
Parents also wants a healthcare partner who will use every available method before medication is even considered. This is my approach, because medication does not teach children skills, but I do. However, I also work closely with pediatricians and other doctors when medication may be necessary. My style is to setup ways of precisely monitoring the efects of the medication.
If you are still unsure if I am a good fit for your family, please feel free to call me and we can setup a free 30-minute "meet and greet" where I encourage people to ask direct questions. That time is for you to interview me. I always encourage people to take their time with choosing the right professional.
Parent Focused Information
Parents, pediatricians, psychiatrists, and teachers consult me regularly on a wide variety of issues ranging from assessing giftedness to solving behavioral issues or choosing the best school. Given my expertise in working with children and adolescents, my focus is to provide careful assessment leading to precise guidance resulting in cost saving and lasting solutions. You may review my unique credentials by clicking here or reviewing my resume here. I continue to provide care as well as conduct research on child-related issues.
The following bullet point list contains examples of situations where I've worked closely with clients to identify solutions:
Is my child gifted?
How can I accelerate my child's development?
How can I prevent my child from having problems in school?
How can I get my child to open up to me more?
What are ways we can be firm but kind with our child so certain misbehavior stops?
How can I figure out what is going wrong with my child…his doctor just wants to medicate her?
We are divorced, and my ex-wife and I want to help minimize the negative impact of the divorce on our child. How do we do that?
Does my son who is in college have a learning disability?
How can we get our chidren to stop competing so aggressively?
How can we get our child to stop coming into out bed at night?
Does my child have ADHD or are they just bored with school?
My approach with families is to learn not just about what problems they want solved, but their experiences with previous healthcare professionals. Often people find my approach to be refreshingly different from what they have experienced given my focus on keeping my caseload small and offering truly high quality and customized care. I am happy to speak with you by phone to answer your questions and sometimes people come in for a meet and greet to interview me in person. That way we can determine if wer are a good match.